Schottky FEG source replacement for FEI SEMs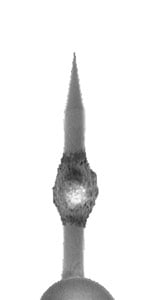 Schottky thermal field emission source replacement for FEI SEMs; compatible with FEG, SFEG and Sirion columns.
Tip radius: 0.5 micron
Operating temperature: 1800K
Lifetime: 1 year minimum
Includes:
disassembly of FEG module
replacement of spent emitter with new Schottky emitter
precision alignment of the tip and proper protrusion through the suppressor
re-assembly of the emitter module in the FEG flange
Operating filament current and angular intensity datasheet provided with each source for proper start-up after installation
As needed, ceramic insulators in your module will be cleaned or replaced at additional cost.
Note: the source should never be operated at pressures greater than 1.0e-9 mbar as this effectively poisons it and reduces source lifetime. 
0
stars based on
0
reviews